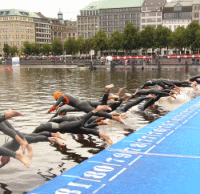 What about if you just want to be more active and increase your level of fitness? Through this set of training plans you will have the guidelines you need and motivation you desire to get out there and do it. This set of plans is an ideal combination of endurance sport as well as core strengthening, and coordination for those new to fitness or have just been away for a while. Jogging, bike riding, and swimming are some of the healthiest sports for you, and perhaps this program may even inspire you to try a tri, but it's not a must!

Nutrition is also an important element in this program. A tasty dietary tip is included in every week's instructions in order to help balance the relationship between the intake and expenditure of calories. This content is important and meaningful, and instead of repeating itself over and over, it builds on previous lessons to provide maximum effect.

Yeah, we know, wellness has become cliché, but the fundamentals behind it are still as vital as ever. Therefore we include advice on what you can do for overall health as it relates to movement and eating. This affects your psyche, as well as physical health and personal appearance. You still may have reservations or questions about what a plan like this could actually look like in your life... try it for four (4) weeks free.

Number of training sessions
You have a choice of how many training units you want to accomplish per week. This way your training fits with your schedule and you're more likely to complete each one and be more successful.

Plan as a PDF download
Not only can you access your plan online, you can also download it every four (4) weeks as a PDF for viewing and printing.

No risk, four (4) week trial
By subscribing for the first month, you incur no costs and thus incur no financial risk. If you do not cancel within the first four weeks, then a second training plan will be sent to you and you will receive 13 such plans for the year at $ 30. ($ 359 per year)

Personal consulting
You can get in touch with the coach to discuss your individual questions and problems.