Personal training plans customized for triathletes
If you have the will to succeed, we have the best training concept and consulting available for you.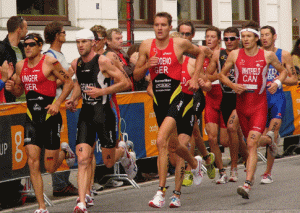 If you are ramping up for a new triathlon season or are contemplating becoming a triathlete this year, then you are in the right place. We support hundreds of triathletes to attain their current goals and build up a stronger base for the next year as well. We train athletes for every type of race length, from sprint to Ironman and everything in between.

What separates us from the competition is that we don't just give you computer readout. Each plan is generated by hand from our coach, Sebastian Hauer, every month. Sebastian is a long-time triathlete and coach who brings a bounty of experience and knowledge with him.



Annual training plan preparation for triathlon season
You will receive a year's worth of plans that train you for your next event as well as builds up core strength and performance for next year as well. Our training year starts in November and reaches its peak with the triathlon season in summer, and naturally you can join in at any time of the year. Through our strategy and prioritized workouts, you'll be in top-form automatically when the tri-season is in full swing.

12-week prep plan for a single event
This plan is for those who have one event in mind and want to focus solely on that over three months. It differs from the year plan in that there is more devoted to the specifics of the event and doesn't include the build up for future events like the entire year's plan. This plan is especially fitting for those who've decided recently to do a race and have 12 weeks to get ready. Naturally we recommend our year-round program for those who have the time for a more comprehensive approach.

Target date selection
You have the option to set a target date for an event where you wish to perform your year's best. Your plan will be adjusted to the specs of the race as well as intensity build-up and tapering so you're at your peak when the day of the event arrives.

Types of training bases
You can choose from four types of distances as your base training. The base plans include Ironman, Olympic, sprint, and beginner. These levels vary in range and intensity based on the demands of the length.

Amount of training sessions per week
You have a choice of how many training units you want to accomplish per week. This way your training fits with your schedule and you're more likely to complete each one and be more successful.

Range and intensity
The range and intensity of your workouts are determined by the type of base matched with the goals you've set. We measure the intensity of swimming and running with your pulse and the time needed to meet the plan. Biking intensity is solely measured with your pulse. We base times and values based on the best times you provide for a 10k run (or similar) and a 400 m swim (or longer), as well as what your maximum pulse is. The plan we provide for you is always optimal; it's what you should be able to do when healthy and able to push the envelope. There may be days/times when you need to dial it back a bit due to illness or injury.

Detailed swimming instruction on video
The training plan for swimming always includes a technique set. These sets are explained in detail on the member's-only section of the website. Links to the member's-only section are found on your plan.

Strength and core-fitness workouts
Even though a triathlon consists of three disciplines, it's crucial not to neglect strength and core-fitness in your training. These workouts provide solid base to handle the orthopedic demands of the training and will improve quality and speed of each discipline. You will also find detailed explanations of these workouts in the member's-only section of the website. They are included in each training plan.

Continually customizable
Our plans are available to you 24-7 to adjust as your body and goals change. Simply enter new best times or even new goals, and we'll provide you with the new plan to continue challenging yourself. This way you can also adjust for varying training intensity before a certain event or competition.

Plan as a PDF download
Not only can you access your plan online, you can also download it every four (4) weeks as a PDF for viewing and printing.

Personal consulting
You can get in touch with the coach to discuss your individual questions and problems.

No risk, four (4) week trial
By subscribing for the first month, you incur no costs and thus incur no financial risk. If you do not cancel within the first four weeks, then a second training plan will be sent to you and you will receive 13 such plans for the year at $ 30. ($ 359 per year)

Price
If you do not cancel your subscription before the initial four (4) week trial period, then another four (4) week plan will be sent to you. The year plan costs $ 359 and the 12 week competition prep plan costs $ 110.