Training plans for the sprint distance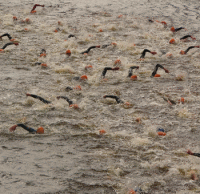 The name of this race clearly conveys the type of training needed. Units are crafted to provide strength and endurance needed for the .47 mile swim, 12.4 mile bike, and 3.1 mile run. These events are especially good for younger athletes and those looking to refine and build up speed in one of the disciplines. Our plans deliver dynamic training that will give you wings as you cruise through these shorter distances.

The lengths for sprint triathlon training are meant for this kind of race; however some athletes may choose this type of dynamic training to prepare for an Olympic length competition.

Seasonal plan
As part of the year package, you will receive a complete training plan for the current season along with instructions for your long-term goals. Our training increases continually to get you to your personal goal for the current triathlon season. You will be in peak performance condition for the competition you select for the year.

Number of training sessions
You have a choice of how many training units you want to accomplish per week. This way your training fits with your schedule and you're more likely to complete each one and be more successful.

Range and intensity
The range and intensity of your workouts are determined by the type of base matched with the goals you've set. We measure the intensity of swimming and running with your pulse and the time needed to meet the plan. Biking intensity is solely measured with your pulse. We base times and values based on the best times you provide for a 10k run (or similar) and a 400 m swim (or longer), as well as what your maximum pulse is. The plan we provide for you is always optimal; it's what you should be able to do when healthy and able to push the envelope. There may be days/times when you need to dial it back a bit due to illness or injury.

Detailed swimming instruction on video
The training plan for swimming always includes a technique set. These sets are explained in detail on the members-only section of the website. Links to the member's-only section are found on your plan.

Strength and core-fitness workouts
Even though a triathlon consists of three disciplines, it's crucial not to neglect strength and core-fitness in your training. These workouts provide solid base to handle the orthopedic demands of the training and will improve quality and speed of each discipline. You will also find detailed explanations of these workouts in the member's-only section of the website. They are included in each training plan.

Continually customizable
Our plans are available to you 24-7 to adjust as your body and goals change. Simply enter new best times or even new goals, and we'll provide you with the new plan to continue challenging yourself. This way you can also adjust for varying training intensity before a certain event or competition.

Plan as a PDF download
Not only can you access your plan online, you can also download it every four (4) weeks as a PDF for viewing and printing.

No risk, four (4) week trial
By subscribing for the first month, you incur no costs and thus incur no financial risk. If you do not cancel within the first four weeks, then a second training plan will be sent to you and you will receive 13 such plans for the year at $ 30. ($ 359 per year)

Personal consulting
You can get in touch with the coach to discuss your individual questions and problems.